OneVision is managing the digital signage for GROM
GROM has chosen OneVision for the management of their digital menu boards
Thu, 06/09/2016 - 14:37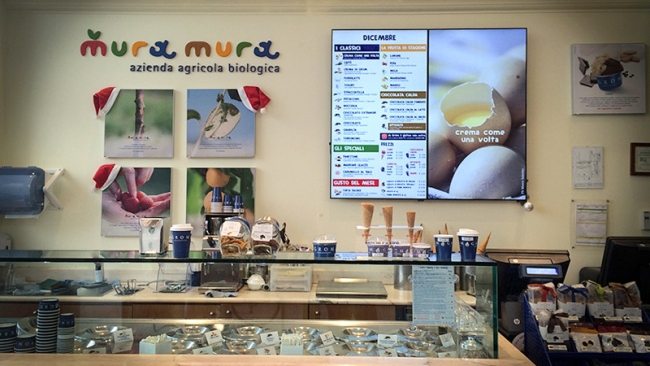 Digital signage is a powerful and flexible tool, especially for retail. That's why the Italian gelato company GROM has decided to take advantage of this digital resource for the display of their menu in store, updating them each month with new flavors, visualizing evocative images aligned with the brand philosophy.
For the management of their digital menu boards, GROM has chosen OneVision, a company of the Tailoradio Group. After planning together with the client the placement of the displays (a couple of vertical screens showing the list of available flavors and the portrait of the highlighted ones), OneVision is taking care of the content management and updates.
Communication through digital displays can be used for branding, merchandising, promoting products or special offers and entertaining customers. 
A wise and careful planning of digital signage can uplift the atmosphere inside the stores, offering to the clients a better shopping experience.
Dynamic digital displays can grab a customer's attention and influence their purchasing decision quickly, in an elegant and non-intrusive way.
That's why we've been offering our digital signage service to the big players of the retail world, ensuring them the best service at any step of the process, from the technical support, hardware and software, to the creation of exclusive video content.
And you? What are you waiting to add more flavor to your stores?