Enhance your company know-how with OneVision Digital Signage
Ulma Construction has chosen OneVision to optimize its internal communication with a turnkey Digital Signage project.
Thu, 06/11/2015 - 14:41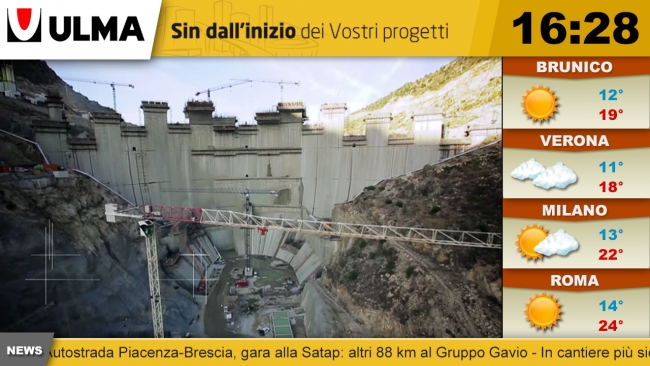 Ulma Construction SpA, a company operating for over 50 years in the field of construction projects, with more than 25 offices strategically located around the World, has entrusted OneVision for its internal communication in its offices in Verona, Milan and Rome, through a dedicated Digital Signage service.
The company aims to inform its employees and customers, whom will be updated in real time on projects and industry news, thanks to a stream of videos and news. The information stream will be managed independently from the headquarters, via the "One Vision Digital Signage" platform, allowing to upload and program content in a fast and intuitive way.
In addition to the software licenses, helpdesk and accounting services, OneVision has supplied Ulma with all the technologies for its offices: professional Philips Large Screen division monitors, with "always on" guaranteed mode and high brightness, and the innovative, multitasking "MediaSync" owned PCs. All included, satisfaction guaranteed!